IMWA2013 - Reliable Mine Water Technology
August 5 - 9, 2013
Exhibitors
All of the companies identified below will be exhibiting at the Conference. Just click a logo for more information.
Information for Exhibitors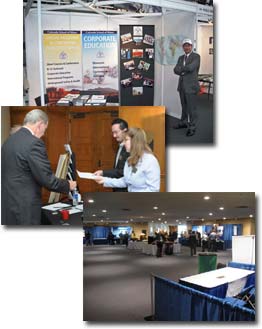 The IMWA 2013 Conference venue provides nearly 8,000 square feet of exhibition space. Exhibits from manufacturers, suppliers, service providers, and others involved mining and water management are welcome. Sponsors of the Conference receive a complimentary booth space and one complimentary registration.
Exhibit Facilities
Exhibition booths measure approximately 10 feet by 10 feet and include the following:
one skirted table
two chairs
pipe and drape (sides 3' x 8'; backdrop 10' x 8')
electricity (120 VAC, 60 Hz)
Schedule
Booth utilization will follow this schedule:
Set-up: Monday, August 5 :: 11am - 5pm
Exhibition: Tuesday, August 6 :: 8am - 5pm; Thursday, August 8 :: 8am - 5pm;
Friday, August 9 :: 8am - 3pm
Tear-down: Friday, August 9 :: after 3pm
Fees and Registration
All exhibit space for the IMWA 2013 Conference has been taken. No further exhibitors can be accepted.
Policies concerning modification or cancellation of an exhibitor registration are the same as those for Conference registrants. Learn more