Short Courses and Conferences
Recent Sand Models
The Key to Interpreting the Subsurface
November 13-15, 2013
Course Description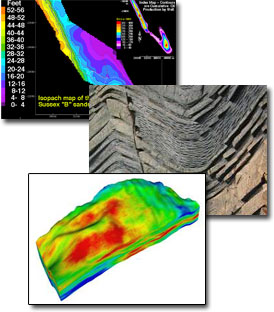 The prime focus of this three-day course is the use of the Recent and Late Pleistocene - a classic high stand and low stand combination--to develop the basic clastic depositional models for all the various reservoir types we explore for and develop. The course will summarize the vast amount of information available for each reservoir system and provide the "ground truth" that can be used in the subsurface.
For each reservoir type we will:
Review the PROCESSES that control sediment movement and deposition in that environment.
Study the resulting DEPOSITIONAL RECORD from continuous cores through the reservoirs and GEOMETRIES characteristic of each unit.
Document the LOG RESPONSES using actual logs run in the modern sands.
Establish the FACIES and SEQUENCE STRATIGRAPHIC CONTEXT for each unit.
Translate these observations to applications in the SUBSURFACE with emphasis on TRAP TYPES.
Show typical SEISMIC SIGNATURES
The reservoirs we will examine in detail include:
CONTINENTAL: Aeolian, Alluvial Fan
CHANNELS: Straight, Meandering, Braided (includes Incised Valleys), Estuaries
BARS: Coastal Regressive, Transgressive (coastal and offshore), Shallow Marine Shelf
DELTAS: River Dominated, Wave Dominated, Tide Dominated, Special Case: Shelf Margin Deltas
DEEP WATER: Ramp Turbidites, Submarine Fans, Contourite Drifts
The course is not a science course - it is designed to be practical and intensive - how to realistically use log and rock data to make reasonable interpretations in the subsurface.
This course is offered as part of the Statewide Extended Studies Program of the Colorado Commission on Higher Education. The Colorado School of Mines will award XX Continuing Education Units (CEUs) upon successful completion of this course.
Who Should Attend
The course will be very useful for any person trying to correlate, map, and interpret clastic reservoirs in the subsurface in order to predict geometries and anticipate hetergeneities. The information presented will be useful for work at various scales: regional mapping, prospect generation, or field development work.
Instructor
Dr. Larry Meckel has been involved in Tight Gas Exploration since 1975. He has worked these units in more than 20 basins in Canada, the U.S., and currently in Mexico. Learn more...
Location
Instruction for this course will take place at the following location:
The Metropolitan Conference Centre
333 Fourth Ave., S.W.
Calgary, Alberta Canada T2P 0H9
Telephone: 403.266.3876
Fax: 403.233.0009
A map showing this location is available. Get map...
Fees and Registration
Registration for this course is open now. Enrollment is limited; therefore, applications will be accepted in the order received. Full information about fees, options, and payment methods is available. Learn more...
Travel and Accommodations
Registrants are responsible for their own travel arrangements, transportation, lodging, and meals. Additional information is available through the links listed below.
Further Technical Information
For more information about the course content, please contact:
Dr. Larry Meckel
L.D. Meckel & Company
1120 Race Street
Denver, CO 80206

Phone: 303.377.4146
Fax: 303.377.4664

Email: meckel@flash.net or meckel@flash.net

Web: http://meckelexplorationtraining.com/