Short Courses and Conferences
Exploration for Tight Oil Plays
Two Sessions: May 13-15, 2013 and November 18-20, 2013
Course Description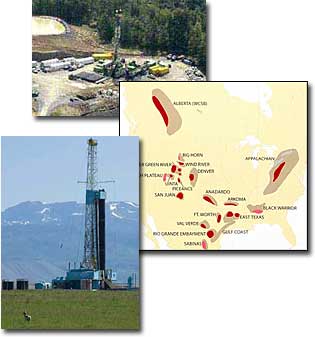 As the industry refocuses its effect on liquids, this course addresses two of the main oil petroleum systems to meet these goals:
Mature oil source rock plays, and
Pervasive tight oil reservoir plays.
Success in both has certainly increased both our North American daily production and our recoverable reserves.
But these plays require a different mindset from our conventional plays. We need to change our working model, the key parameters required to make a successful play, and our concept of what is an acceptable reservoir. Not always easy!
This 2.5 day course addresses how to explore for these new plays and what data is required to evaluate the opportunity. Learn more...
Examples of new ongoing plays will be used.
Who Should Attend
The course will be very useful for any person trying to correlate, map, and interpret clastic reservoirs in the subsurface in order to predict geometries and anticipate hetergeneities. The information presented will be useful for work at various scales: regional mapping, prospect generation, or field development work.
This course is offered as part of the Statewide Extended Studies Program of the Colorado Commission on Higher Education. The Colorado School of Mines will award 1.8 Continuing Education Units (CEUs) upon successful completion of this course.
Instructor
Dr. Larry Meckel has worked these plays for a number of years. He is an exploration consultant and Adjunct Professor at the Colorado School of Mines where he teaches "Unconventional Petroleum Systems". In 2011 he received the AAPG Grover Murray Distinguished Educator award.
Location
Instruction for this course will take place at the following location:
The Metropolitan Conference Centre
333 Fourth Ave., S.W.
Calgary, Alberta Canada T2P 0H9
Telephone: 403.266.3876
Fax: 403.233.0009
A map showing this location is available. Get map...
Fees and Registration
Registration for this course is open now. Enrollment is limited; therefore, applications will be accepted in the order received. Full information about fees, options, and payment methods is available. Learn more...
Travel and Accommodations
Registrants are responsible for their own travel arrangements, transportation, lodging, and meals. Additional information is available through the links listed below.
Further Technical Information
For more information about the course content, please contact:
Dr. Larry Meckel
L.D. Meckel & Company
1120 Race Street
Denver, CO 80206

Phone: 303.377.4146
Fax: 303.377.4664

Email: meckel@flash.net

Web: http://meckelexplorationtraining.com/