Short Courses and Conferences
Recycling Metals from Industrial Waste
A Short Course and Workshop with Emphasis on Plant Practice
June 21-23, 2016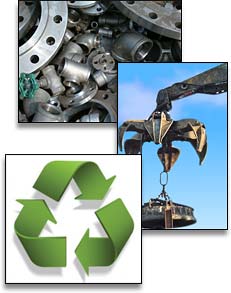 Comments from Participants
The technical expertise expressed at the CSM short course on recycling is absolutely second to none. The best $2,000 one can spend.
J.P. Rosso, Vice President
PM Recovery / IPMR
Harrison, NY
Excellent networking and meeting international recycling key people.
Marcel Ambrusch, Purchasing Manager
Treibacher Industrie AG
Althofen, Austria
The quality of the attendees and presentation at this meeting is extraordinary — an amazing group of people.
Tom Ondrejko, Manager of Metallurgical Development
Langeloth Metallurgical Company
Langeloth, PA
In my second time through the course, the topics were fresh and engaging. This meeting is easily one of the best uses of my company's budget.
Richard Nickerson, President
Cal-Chem Metals
Claypool, AZ
This short course is about technology, recovery, recycling, process, and NEWS. Congratulations!
Javier Vaquero, Production Manager
Zinc Nacional S.A.
Monterrey, Mexico
Next time I will take the whole week and bring my wife.
Don Bolger, Technical Manager
INMETCO
Ellwood City, PA
I always leave this short course a wealthier man than when I arrived.
David Kid, Vice President
Titan Metal Powders
Durango, CO
What I liked best was 1) network-
ing with people in our industry, 2) exposure to different businesses, processes, and opportunities, and 3) the diversity of the group – but with many of the same goals.
John Likarish, Manager of Marketing
Doe Run Resources
St. Louis, MO
More than 140 companies, institutions, and organizations are represented by participants in this course. Learn more...
Course Description
This program, now in its 24th year, focuses on current plant practices to convert metal-containing wastes to products. Processors, raw materials, and markets are identified and quantified. Speakers with decades of hands-on experience detail multiple approaches to recycling metals and associated materials - backed up by slides, videos, and the syllabus.
Particular emphasis is given to combinations of physical, hydrometallurgical, and pyrometallurgical processing, along with associated regulations, to facilitate economical recycling. The presentations are on a practical level, focusing on plant operations, with ample opportunity for interaction by the course participants.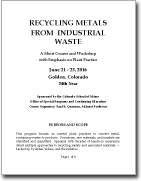 A brochure about the program is available for download as a PDF document. Download...
Course Agenda
An agenda for the course, showing topics to be covered, is available. Learn more...
Course Organizer
Paul B. Queneau Adjunct Professor, Colorado School of Mines
Upon Completion...
Colorado School of Mines will award 2 Continuing Education Units (CEUs) upon completion of this course.
Location
The course will be taught on the campus of the Colorado School of Mines in Golden (near Denver), Colorado USA. Learn more...
Fees and Registration
Registration for this course is open now. Enrollment is limited; therefore, applications will be accepted in the order received. Full information about fees, options, and payment methods is available. Learn more...
Travel and Accommodations
Registrants are responsible for their own travel arrangements, transportation, lodging, and meals. Additional information is available through the links below.
Further Technical Information
For more information about the course content, please contact:
Paul Queneau
The Bear Group
Tel: 303.854.2036
Fax: 303.273.0494
Email: pqueneau@mines.edu