Short Courses and Conferences
49th Annual Meeting of The Clay Minerals Society
July 7 - July 11, 2012
About Golden, Colorado...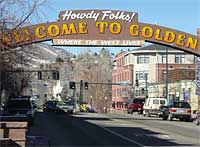 The city of Golden is located just west of Denver, Colorado, at the base of the foothills of the majestic Rocky Mountains.
With more than 300 days of sunshine each year, Golden is a great place to visit during any season. Separated from Denver by two mesas, Golden retains its small town character, yet enjoys access to the many cultural and social benefits of the metropolitan area.
Serving as the gateway to the Rocky Mountains, Golden also has many hiking trails, ranging from easy hikes along historic Clear Creek to challenging treks into the foothills. Golden is the home of the American Mountaineering Center and the Colorado Mountain Club, and boasts a world-class kayack course and parasailing from the top of Mount Zion — and all of these opportunities are within walking distance of the Colorado School of Mines campus.
With easy access to I-70 and other highways into the mountains, Golden is only a short drive away from many resorts and outdoor activities — mountain climbing, hiking, biking, kayaking, canoeing, and a host of others. Feel free to visit the many available websites to learn more about Golden and the surrounding community. We suggest: