EXHIBITORS
The 16th North American Mine Ventilation Symposium venue provides nearly 8,000 square feet of exhibition space. Exhibits from manufacturers, suppliers, service providers, and others involved with the mine ventilation or related industries are welcome. Sponsors of the Symposium receive a complimentary booth space and one complimentary registration.
Exhibit area facilities
Each exhibitor's area will have the following:
Reserved area measuring approximately 10 feet by 10 feet
One skirted table
Two chairs
Pipe and drape (sides 3' x 8'; backdrop 10' x 8'); exhibitors can use their own pop-ups and backdrops
Electricity (120 VAC 60Hz); exhibitors must supply their own extension cords and plug strips
Internet access (may be Wi-Fi and/or Ethernet depending upon area location)
A floor plan of the exhibit area, showing the locations of all exhibitors, is available for download (43KB). Download...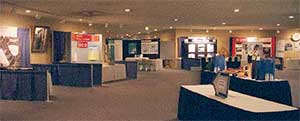 Schedule
Each exhibitor will be expected to conform to the following schedule:
Set-up: Sunday, June 18 • 1:00 pm - 5:00 pm; or Monday, June 19 • 7:00 am - 8:00 am
Exhibition: Monday, June 19 and Tuesday, June 20 • 8:00 am - 5:00 pm; Wednesday, June 21 • 8:00 am - 3:00 pm
Tear-down: Wednesday, June 21 • after 3:00 pm
Fees and registration
Registration for exhibitor space is open now. Space is extremely limited; therefore applications will be accepted in the order received.
Exhibitor registration:

$2000

USD
Additional booth staff:

$175

USD per person
Each Exhibitor registration includes the following:
Admission to the exhibitor area for 1 person
Continental breakfasts and refreshments at breaks for 1 person during the Symposium
Opening reception and awards banquet for 1 person
Program and print proceedings
Booth staff registration does not include admission to the technical program, but does include the following:
Admission to the exhibitor area
Continental breakfasts and refreshments at breaks
Opening reception and awards banquet
Registration is available only through the online registration form using online payment via credit or debit card. Click/tap the 'Register' button below to access the online registration form.

Policies concerning modification or cancellation of a exhibitor registration are the same as those for Symposium registrants. Learn more...
Security
Each exhibitor shall be responsible for providing security for their possessions present in their designated area. Neither Colorado School of Mines, the event organizers, nor the Office of Special Programs and Continuing Education can be held responsible for theft of or damage to a exhibitor's possessions. Exhibitors are encouraged to not leave their area unattended and/or to remove their possessions from the area during periods when the area is unattended.
Shipping
Exhibitors shipping materials directly to the Green Center, should ship to:
Colorado School of Mines - Mine Ventilation Symposium
1301 19th Street
Golden CO 80401
Please mark all packages "HOLD FOR MINE VENTILATION SYMPOSIUM June 19-21, 2017"
Return of Exhibit Material
If exhibit material is to be return shipped, it is the exhibitor's responsibility to arrange a pick-up by the carrier of exhibitor's choice. The pick-up must occur between 9:00 AM (Mountain) and 5:00 PM on Thursday, June 22, 2017 at the following address:
Green Center
Colorado School of Mines
924 16th Street
Golden, CO 80401